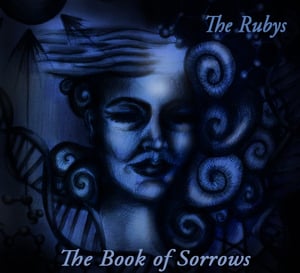 £

6.99
Comes in a Jewel Case CD case signed by each member of the band.
All copies will be shipped two days prior to the official release date of May 8th 2015
"The Book of Sorrows" is the new studio album from Manchester Indie Rock band, The Rubys. Produced by Dean Glover and Martin Coogan at Vibe Studios, Manchester.
The cover is designed by upcoming artist and musical obsessive, Eloise Wyatt (please note: Image is NOT of the final artwork).
Following on the heels of the well received debut album, "Limelight Parasite", the album establishes a sonic progression for The Rubys. Catch them on tour this year.
Tracklisting:
1. Blinded By Science
2. Chaser
3. I'm In Heaven Now
4. Say What Goes
5. New Day
6. Live At The Zoo (i)
7. Best of Me (Sorrow Mix)
8. Silhouettes
9. Live At The Zoo (ii)
10. Say Something
Issued on a single Jewel Cased CD & Booklet.
PLEASE NOTE THE PRE-ORDER DEAL IS NOW CONCLUDED